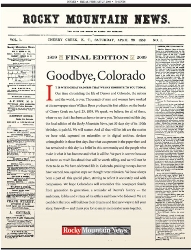 Am Freitag erschien in Denver, Colorado, die letzte Ausgabe der "Rocky Mountain News", einer Tageszeitung, die an Werktagen zuletzt immerhin noch 210.000 Exemplare verkauft hat, also mehr als deutsche Zeitungen wie die "Berliner Zeitung", der "Tagesspiegel", die "Frankfurter Rundschau" oder das "Handelsblatt". Der Tod der "Rocky Mountain News", die in 55 Tagen ihren 155. Geburtstag gefeiert hätten, wäre wohl wie so viele Print-Tode in dieser Zeit nur eine Randnotiz zur Kenntnisnahme geworden, die schnell vergessen worden wäre. Doch die Redaktion der Zeitung hat das Ende ihrer Zeitung in besonderer Art und Weise vollzogen. Auf der Website verabschiedete man sich mit traurigen Artikeln, Best Ofs und vielen "Goodbyes" in Kolumnen, Blogs, etc. So schreibt die Redaktion:
"It is with great sadness that we say goodbye to you today. Our time chronicling the life of Denver and Colorado, the nation and the world, is over. Thousands of men and women have worked at this newspaper since William Byers produced its first edition on the banks of Cherry Creek on April 23, 1859. We speak, we believe, for all of them, when we say that it has been an honor to serve you. To have reached this day, the final edition of the Rocky Mountain News, just 55 days shy of its 150th birthday is painful. We will scatter. And all that will be left are the stories we have told, captured on microfilm or in digital archives, devices unimaginable in those first days. But what was present in the paper then and has remained to this day is a belief in this community and the people who make it what it has become and what it will be. We part in sorrow because we know so much lies ahead that will be worth telling, and we will not be there to do so. We have celebrated life in Colorado, praising its ways, but we have warned, too, against steps we thought were mistaken. We have always been a part of this special place, striving to reflect it accurately and with compassion. We hope Coloradans will remember this newspaper fondly from generation to generation, a reminder of Denver's history – the ambitions, foibles and virtues of its settlers and those who followed. We are confident that you will build on their dreams and find new ways to tell your story. Farewell – and thank you for so many memorable years together."
Zudem hat man ein eindrucksvolles und sehr trauriges Video mit dem Namen "Final Edition" online gestellt, das die letzten Wochen der Zeitung erzählt, zusammen mit Mitarbeitern und Lesern. Ich habe selten etwas gesehen oder gelesen, das das einsetzende Zeitungssterben so plastisch und nah zeigt. Der Tod einer Zeitung bedeutet schließlich nicht nur das Ende eines Produkts. Jobs gehen verloren, treue Leser verlieren "ihre" Zeitung und damit nicht nur eine Informationsquelle, sondern ein Stück Leben und Kultur.

Final Edition from Matthew Roberts on Vimeo.